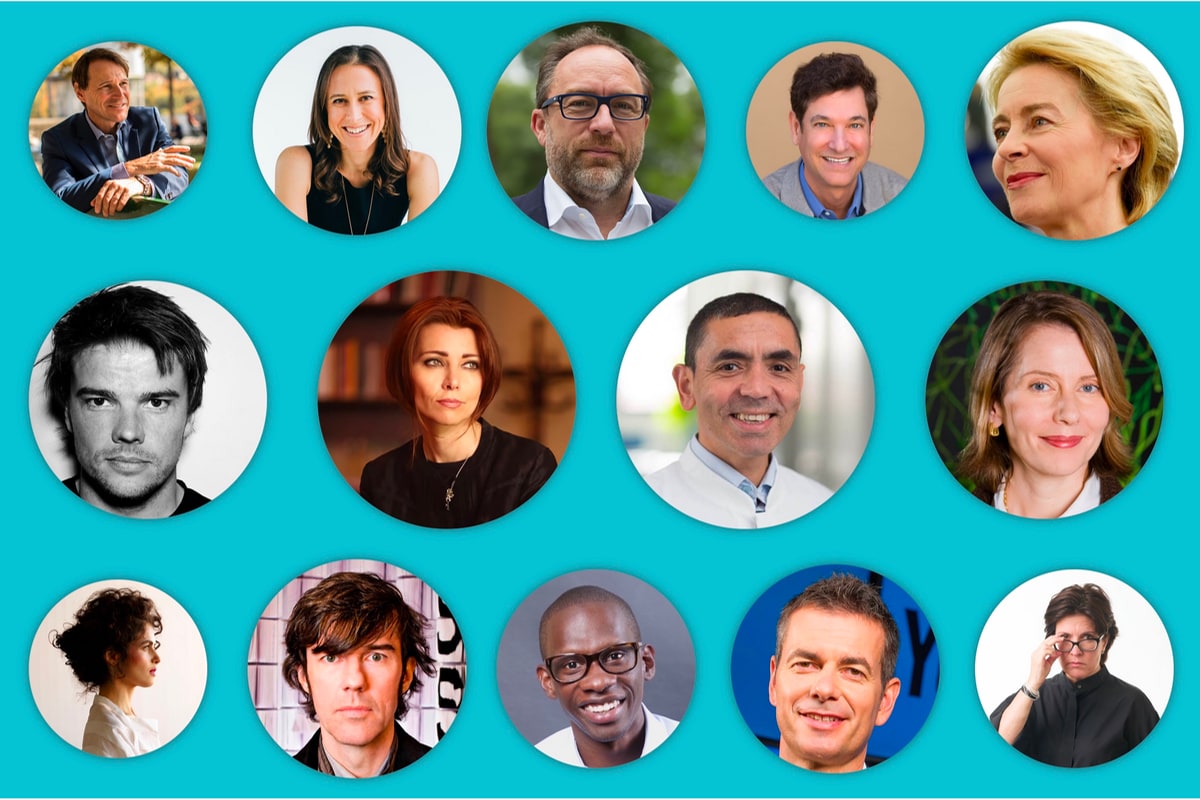 Key Insights: What We Learned at DLD All Stars
A world in crisis is also a world of opportunities. This was on full display at DLD All Stars, our three-day online conference that featured top speakers from politics, business, science and culture. The event illustrated the wealth of opportunities that arise when different disciplines inspire each other – with art meeting technology, AI speeding up medicine, and finance promising to drive the economy into a more sustainable future. To name just a few.
The result was a wealth of fresh proposals for how to tackle climate change, reinvent cities, develop new mobility concepts, speed up health and medicine, and make the most of the benefits of technology without jeopardizing the human aspects of society.
This brief recap is intended to give you a bird's eye view of main conference topics, but it cannot reflect the wealth of topics and ideas that made DLD All Stars such a resounding success. Please go on your own journey of discovery by visiting our All Stars video playlist on YouTube, which features recordings of all sessions.
Advancing Medicine
Never before in human history has a virus faced so much push-back so quickly. It took less than twelve months for scientists to develop new drugs to immunize the world's population. "This was the fastest vaccine developed and approved against a novel pathogen in medical history", said BioNTech CEO Uğur Şahin. His company's Sars-CoV-2 vaccine, developed in collaboration Pfizer, was the first to win approval in the U.S., in November 2020.
"We were no experts on this virus, but we were experts on immunology", Şahin explained. For more than a decade, his company had researched a new approach to personalized cancer therapy, based on so-called messenger RNA. In early 2020, BioNTech realized that the same technology could be applied to fighting the novel coronavirus. "We had started to make a vaccine for a single individual", Şahin said, "and we ended up making a vaccine for the whole mankind."
Due to the versatility of the messenger RNA technology, the BioNTech CEO showed little concern that mutations could quickly make the vaccine ineffective. "We are positive that mRNA vaccines can enable a fast adaptation of the vaccine to newly emerging Sars-CoV-2 variants, if they are needed", Şahin said.
In general, the pandemic has had the effect of alerting the entire world to the dangers of future viruses that could wreak even more havoc. In response, there are serious efforts underway "to set up an infrastructure so that we can be very agile and rapidly respond to novel threats", Merck CEO Stefan Oschmann noted. Learning from the Covid-19 pandemic could also help societies in responding to other, more common infectious diseases, Harvard researcher Pardis Sabeti pointed out. "What you need to do to think about stopping a virus like Covid is what you need to do to respond to malaria every year, to the thing that's affecting your child in day care or making you sick in the office."
A better understanding of the individual immune response is key not only to developing Covid-19 vaccines but to personalized medicine in general. With her company 23andMe, Anne Wojcicki has pioneered the field of personal genomics – an analysis of the individual DNA markup. Over 80 percent of 23andMe's ten million customers opt in to making their personal information available to research, Wojcicki told interviewer Kara Swisher, enabling the company "to crowdsource this incredible community of genetic information, and we use that to make discoveries". Ultimately, she explained, her hope was to use these insights "to usher in true personal healthcare".
Artificial intelligence will likely play a crucial role in shaping the future of medicine. Venture investor Jim Breyer – an early backer of 23andMe – explored the many possibilities in conversation with Burda Media CEO Paul-Bernhard Kallen. One of them is combining top talent from Silicon Valley companies with the expertise of medical companies, which "is leading to an explosion of very positive opportunities around AI in medicine", Breyer said.
Go Green and Prosper!
The pandemic has hit the world economy hard – but it also opens the door to a better, more sustainable future. To help Europe recover from the Covid fallout, for example, the EU has launched its New European Bauhaus initiative, modeled after the historical Bauhaus movement of the 1920s and 30s.
"We need projects that open a perspective for the future, that make us dream – that touch our emotions and stimulate creativity", Ursula von der Leyen, President of the EU Commission, declared. "And this is what the new European Bauhaus is about. It is also a project for recovery."
By bringing together experts from different backgrounds – artists and designers but also architects, scientists and entrepreneurs – the EU hopes to "make our companies fit for the future" and "amplify good examples, expertise and ideas", von der Leyen said. Ultimately, she added, the New Bauhaus is meant to become "an enabler for all those who want to shape the sustainable living of tomorrow."
One approach is a radical rethink of architecture. Concrete buildings are major contributors to climate change, as both construction and operation consume enormous amounts of energy. As cities continue to grow, "every month we build another New York City on all of Earth", Bjarke Ingels noted. More sustainable growth demanded a master plan for the entire planet (dubbed Masterplanet), the renowned architect argued.
A key part of this vision is the rediscovery of wood as construction material. By turning buildings into urban forests, "you can create a huge global carbon sink", Hans-Joachim Schellnhuber, a leading climate researcher, explained. "Up to 30 percent of the global emissions" in CO2 could be captured this way, he said. To avoid the worst effects of global warming it was necessary to "cut in half emissions every decade" – and to achieve that "we have to reforest degraded land and then we need to use timber and turn it into buildings."
Where we choose to live – and how we move around – has great implications for reducing carbon emissions as well, of course. BMW Chairman Oliver Zipse vowed to go far beyond replacing combustion engines with electric ones. "We need to find ways towards a more circular economy", he said. "Our ambition is to build the greenest electric vehicles in our industry – from raw materials, the supply chain, and production up to recycling."
Consumers and investors are increasingly demanding this kind of mindset from corporate leaders, Sir Ronald Cohen pointed out. "We are seeing a revolution underway", the Global Steering Group for Impact Investment said. Some $40 trillion of funding are "going to companies who pollute less or improve the environment", measured by ESG standards, Sir Ronald said.
Humane Technology
Hate speech, polarization, the breakdown of trust in democracy: to critics, social media platforms like Facebook, YouTube or Twitter play a central role in these unhealthy developments. Several All Stars sessions looked at what's wrong with today's attention economy – and how to come up with better alternatives.
"What the world needs is for us to realize that an atom bomb has gone off in our information ecosystem", Maria Ressa stated in a passionate speech from her hometown Manila. The founder of news website Rappler.com was recently nominated for a Nobel Peace Prize for her fearless fight for freedom of speech in the Philippines.
Social media's business model of selling attention to advertisers "has broken facts, it has divided and radicalized", Ressa said. "All meaningful human endeavor is impossible if we don't have facts and a shared reality. And that's exactly what our information ecosystem of today has ripped apart." She called for a global effort to respond "to this insidious manipulation that is the core of every meaningful human engagement."
Former Google developer Tristan Harris accused social media platforms of deliberately "hacking human weaknesses" in order to keep users glued to their screens, through methods detailed in the Netflix documentary The Social Dilemma and in Harris's DLD20 talk. "The thing that got us here […] was not properly assessing human vulnerabilities", the co-founder of the Center for Humane Technology observed. "Are we just this weak, Paleolithic chimpanzee who can't resist the social validation and likes that we get from other people?"
No, Harris answered, that would be too simple: "That species that's vulnerable to social validation also is the same one that put humans on the Moon." The goal should be to "become more immune to our own hackability" by focusing on technology that serves to strengthen the mind and understands that "cognition is a precious resource".
It's easy to forget this in the information age, as author Elif Shafak noted. "The idea was, if everyone has enough information people will make the right choices. So all we need is just to spread out information, all we need is digital technologies to become more democratized."
This turned out to be wrong, Shafak argued, because having access to information was very different from knowledge, and could even be an obstacle. "It gives us the illusion that we know a subject that we know very little about", she said. "We forgot to say, 'I don't know.'"
Her suggestion? Take more time to read books, listen, analyze. "Most importantly we need to slow down", Shafak said. "You can't rush knowledge."
This may sound alien to many who race through Twitter, Snapchat and TikTok feeds – but Wikipedia founder Jimmy Wales is trying to do just that with WT.Social. Think of the social media startup as a kind of anti-Twitter. Users are encouraged to think twice before posting anything and expected to engage in civil discourse, while virtual shouting and screaming won't be tolerated.
"It's still very much a work-in-progress", Wales admitted in his All Stars talk. "I'm exploring every day, we're working on new ideas." One of them is social gaming, intended to bring users closer together in a playful, engaging way– an aspect also mentioned by Herman Narula. "Games in virtual worlds create a shared environment with shared constraints", the Improbable CEO pointed out. If designed correctly, he said, they "tend to force cooperation in ways social media never can. They're not echo chambers, they're shared experiences."
More DLD All Stars
Visit our video collection with all talks and highlights