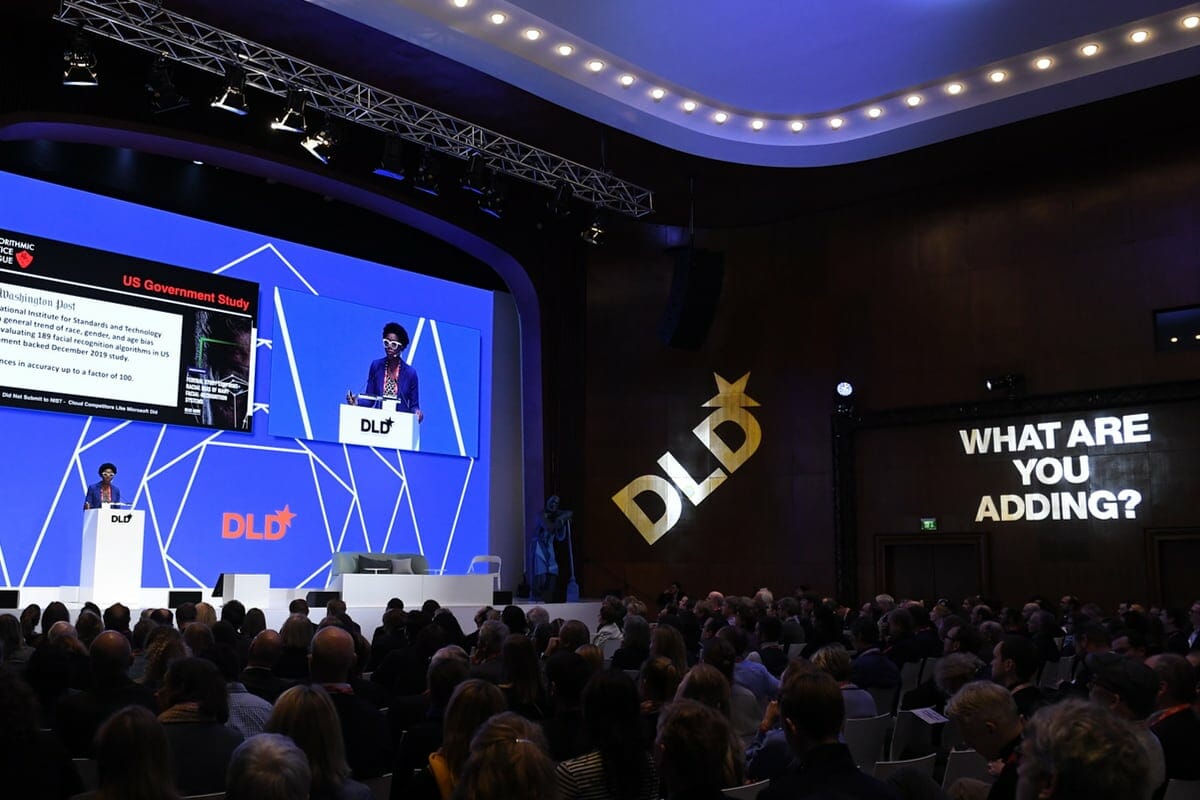 January 18 – 20, 2020 ‧ Alte Kongresshalle Munich
Thank you for joining us at Europe's leading digital conference!
Here's a selection of videos, images and related articles.
For live impressions posted on Twitter, please look for the hashtag #DLD20
Highlight Reel DLD Munich 2020
Truth vs. Fake News
Rethinking Social Media
Free Speech
Facebook: Roger McNamee
Facebook: Nick Clegg
Deep Fakes & AI
Responsibility
Nobel Peace Prize Laureate
Muhammad Yunus
calls for companies to show more social responsibility to help overcome poverty and inequality.
Entrepreneurship
Leadership
Siemens Chairman
Jim Hagemann Snabe
describes the impact of digital transformation of society and corporations – and calls for a dramatic change in problem solving in leadership strategies.
Managing Brands
Gender Equality
Is artificial intelligence advancing or hindering gender equality? Computer scientist and self-proclaimed "poet of code"
Joy Buolamwini
, Harvard economist
Iris Bohnet
and
Maria Furtwängler
highlight the necessity for systemic change in business and society.
Team Work
How can leaders successfully manage an organization? In this panel discussion,
Michael Diederich
, CEO of HypoVereinsbank,
Tarek Müller
, co-founder of About You, and Deutsche Telekom board member
Claudia Nemat
came together to delve into what it takes to lead an ever-evolving workforce
Relationships

Esther Perel, renowned psychotherapist and author, gives an energetic and insightful talk about the importance of emotional intelligence and human relationships for success in the workplace: "Quality relationships are central to the quality of our lives as well as to our business success," she observed. "But unlike hitting benchmarks relationships are much harder to measure, harder to sustain and harder to repair."
Artificial Intelligence
The Disruption of Trust
Politics & Populism
Overcoming Techno-Pessimism
Silicon Valley Values
Future Politics
What Are You Adding?
View from Above
Space Debris
Take A Walk!
Flying Cars
Snap Chat
Podcast Boom
Math + Art = Inspiration
Streaming Media
Think Like An Artist
Lightcatcher
Super Foods
Designing Humans
Precision Medicine
Tech Inside
Healthy Highs?
Europe
Startups
Germany
Investing
Smart Bavaria
Digital Sovereignty
European Tech
Don't Panic!
Sustainability & Climate Change
Green New Deal
Sustainable Growth
More from Less
Renewable Energy
Northern Exposure
Eat Different
Smart Farming
Action Plan
Quantum Computing
Blockchain
Kasparov on AI
Cybersecurity
This is just a selection of presentations recorded at the conference. For a full list of videos please visit our YouTube channel.