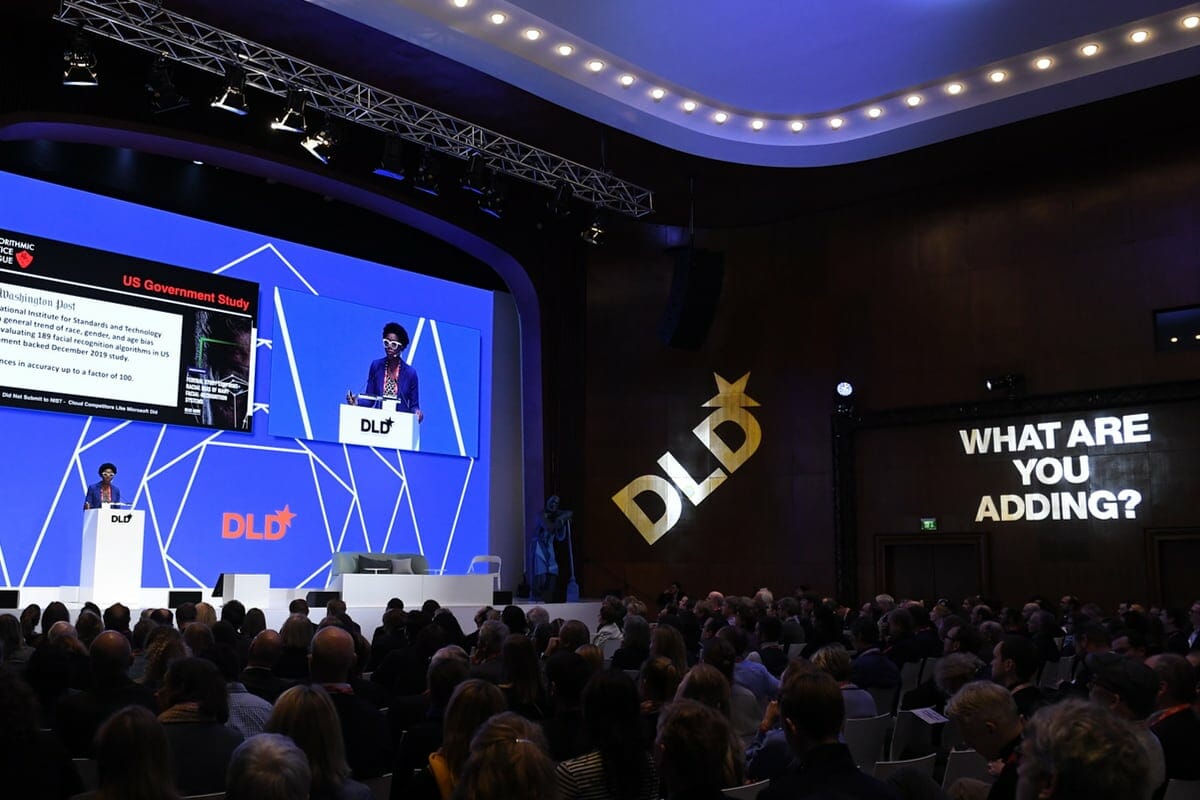 January 18 – 20, 2020 ‧ Alte Kongresshalle Munich
Thank you for joining us at Europe's leading digital conference!
Here's a selection of videos, images and related articles.
For live impressions posted on Twitter, please look for the hashtag #DLD20
Highlight Reel DLD Munich 2020
Truth vs. Fake News

Tristan Harris, Co-founder of the Center for Humane Technology, speaks with Financial Times journalist Rana Foroohar about digital media, democracy and the loss of trust. Fake news can inflict lasting societal damage, Harris argues, especially since platforms like YouTube and Facebook have not been able to effectively fight the spreading of misinformation. "This is a really serious thing that is affecting two billion people and eroding the truth ecology and our trust environment."
Rethinking Social Media
Free Speech
Facebook: Roger McNamee
Facebook: Nick Clegg
Deep Fakes & AI
Responsibility

Nobel Peace Prize Laureate Muhammad Yunus calls for companies to show more social responsibility to help overcome poverty and inequality.
Entrepreneurship
Leadership
Managing Brands
Gender Equality
Team Work
Relationships
Artificial Intelligence

Joy Buolamwini, founder of the Algorithmic Justice League, paints an alarming picture of the racial, gender and class bias present in current AI systems. "Machines are not flawless, they reflect something", she says. They "are the reflection of those that have the power of technology." 
The Disruption of Trust
Politics & Populism
Overcoming Techno-Pessimism
Silicon Valley Values
Future Politics
What Are You Adding?
View from Above

Former astronaut Cady Coleman flew twice in a Space Shuttle and spent 6 months living onboard the International Space Station. At DLD20, Cady spoke about her experiences with investor and space enthusiast Esther Dyson, who underwent training as an astronaut herself and served on NASA's Advisory Council.
Space Debris
Take A Walk!
Flying Cars
Snap Chat

From smartphones to VR goggles, the combined power of art and technology is rapidly changing the possibilities of both our imagination and reality. This panel brings together Snapchat co-founder Evan Spiegel, artist Alex Israel and Hans Ulrich Obrist, Artistic Director of the Serpentine Galleries in London.
Think Like An Artist
Podcast Boom
Math + Art = Inspiration
Streaming Media
Magic in Limitation
Lightcatcher
Containers of Culture
Super Foods

Drawing from studies that show the benefits of foods like soy and cooked tomatoes in fighting cancer, William Li, CEO and co-founder of the Angiogenesis Foundation, presents a compelling case for how food impacts our health defenses.
Designing Humans
Precision Medicine
Tech Inside
Healthy Highs?
Europe

In his keynote address, EU Commissioner Thierry Breton defied the notion that Europe risks losing the race for future technologies. "Europe is not lagging behind", he insisted, pointing out that the continent owns half of 5G patents and is launching a new initiative in computer programming and smart antennas. However, to guarantee success "we need a clear vision of what we want to do and how we want to behave with our data", Breton said.
Startups
Germany
Investing
Smart Bavaria
Digital Sovereignty
European Tech
Don't Panic!
Sustainability & Climate Change
Green New Deal

In this riveting talk, bestselling author and economist Jeremy Rifkin calls for a radical transformation of energy production and distribution in order to keep the climate crisis in check. "We need a compelling economic vision for the future and an action-based plan for a fossil-free society by 2040 – not 2050," Rifkin demands. You can read more in this Q&A with DLD News.
Sustainable Growth
More from Less
Renewable Energy
Northern Exposure
Eat Different
Smart Farming
Action Plan
Quantum Computing

What is the current state of quantum computing in Europe, and how can the continent stay competitive in this key technology? This panel, moderated by Laura Citron, CEO of London & Partners, brought together Ignacio Cirac (Max Planck Insititute of Quantum Optics), Sebastian Luber Infineon Technologies, Ian Walmsley (Imperial College London),  Torsten Siebert (Frauenhofer-Gesellschaft) and Wolfgang Hübschle (Invest in Bavaria).
Blockchain
Kasparov on AI
Cybersecurity
This is just a selection of presentations recorded at the conference. For a full list of videos please visit the DLD20 collection our YouTube channel.