DLD Sync
Building A Sustainable Future for Europe
In January 2021, the European Commission launched the New European Bauhaus – a creative and interdisciplinary initiative to drive the green transformation of our continent. The New European Bauhaus sets out to support, facilitate, and accelerate innovations at the crossroads of art, science and technology. It is a call to action and a collective effort to imagine and build a future that is sustainable, inclusive and beautiful. To build this future, it needs a team of architects, makers, operators and supporters with many different skill sets. Therefore, fostering entrepreneurial ecosystems which thrive through cross-disciplinary collaboration is a key factor for transferring this ambitious vision into real-world solutions.
In this DLD Sync conversation, we heard from Francesca Bria, member of the New European Bauhaus high-level roundtable and President of the newly created Italian National Innovation Fund, and Helmut Schönenberger, CEO of UnternehmerTUM, Europe's largest, highly successful entrepreneurship center. Drawing from their profound expertise in innovation management, they gave us insights into their own ecosystems and discuss ideas how the vision of the New European Bauhaus can be a catalyst for a new wave of entrepreneurial innovation across Europe.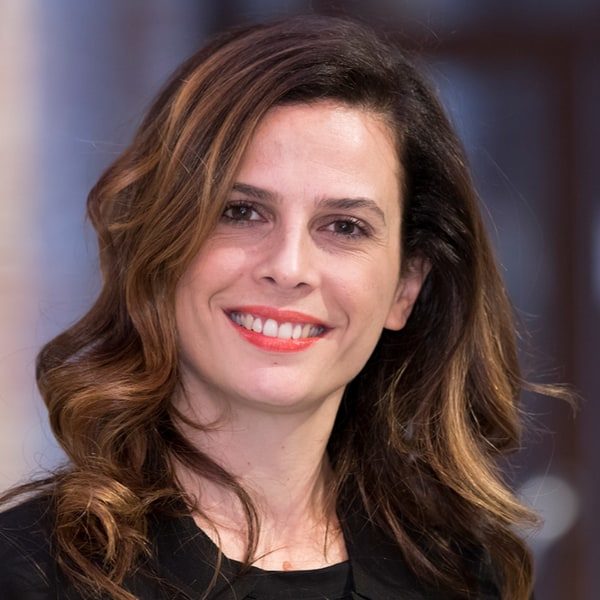 Italian National Innovation Fund
Francesca Bria is the President of the Italian National Innovation Fund, CDP Venture Capital and the former Chief Digital Technology for the City of Barcelona. She is a member of the European Commission New European Bauhaus High-level Roundtable and is leading the DECODE project on data sovereignty in Europe.
UnternehmerTUM
Helmut Schönenberger is Co-Founder and CEO of UnternehmerTUM, the Center for Innovation and Business Creation at Technical University Munich (TUM). Scalable tech-startups are Helmut's passion. He is especially interested in startups in the field of smart enterprises, additive manufacturing as well as smart city and mobility solutions.
Video
By loading the video you agree to the Privacy Policy of
Vimeo
.
Sync Scroll
The easy way to rediscover your favorite moments of the talk.
| | |
| --- | --- |
| Time | Topic |
| 0:05 | Intro by Steffi Czerny |
| 6:20 | The right moment: Why Europe needs a "forward looking radical vision of sustainable Europe." (Francesca Bria) |
| 7:30 | History shows: Crises can bring big opportunities for positive change. |
| 8:45 | The New Bauhaus: "A European touch to innovation." (Francesca Bria) |
| 9:50 | What we can learn from the historic Bauhaus movement of the 1920s. |
| 9:15 | Why the pandemic may turn out to be the wake-up call that actually brings change. |
| 11:00 | Europe's ambitious vision of a Green New Deal. |
| 12:40 | For the New Bauhaus initiative, Bria pledges pragmatism over bureaucracy: "We want this to be a grassroots, diverse movement that brings together artists, engineers, technologies, the design schools, the art schools economists the environmental movement, the youth movement, students, cities and regions…" |
| 15:00 | New technologies like 3D printing are opening up new opportunities for innovation. (Schönenberger) |
| 16:30 | Munich's ambition to be at the heart of innovation in Europe. |
| 17:30 | Europe's challenge is "to really get momentum, and really realize these solutions and scale them and make Europe even more beautiful, and more attractive", Helmut Schönenberger argues. |
| 19:35 | Diversity, Europe's greatest strength? |
| 21:00 | Inspiring the next generation of Europeans. |
| 23:15 | The new Munich Urban Colab: a place for people to collaborate and innovate – from inventors and entrepreneurs to SMEs and big corporations. "It's a place where people come together and meet and really start the journey and build solutions." (Helmut Schönenberger) |
| 26:00 | Bridging the gender gap and socio-economic divides in Europe. |
| 27:00 | Smart cities and new urban mobility. |
| 29:30 | The importance of adding a cultural dimension to technology. |
| 30:50 | Why the name, "The New European Bauhaus"? |
| 33:30 | The role of universities in helping founders start a business and fostering innovation ecosystems. |
| 36:40 | Innovation in a triangle of research, investing and entrepreneurship. |
| 39:10 | Back to the countryside? New businesses can bloom anywhere, not just in cities. |
| 44:50 | Scaling up: why Europe needs startup success stories. |
| 46:00 | European sovereignty in an interconnected world. |
| 52:10 | The impact of Covid-19 on Europe's economy and innovation ecosystems. |
| 55:00 | What's the difference in mentality between European startup founders and U.S. founders? |
| 57:50 | Wrap-up. |
More DLD Sync
How do we need to design office spaces for a world after Covid-19? Is home office a sustainable concept for tomorrow? What does this change mean for mobility and transportation? Does the pandemic spell the end of megacities and decades of urbanization?
Isabell Welpe, Chair for Strategy and Organization at the Technische Universität München, and Albert Wenger, Managing Partner at Union Square Ventures, had a fascinating discussion about the state of the globalized economy. What can Covid-19 teach us about capitalism and its limits?…