DLD Video
The Future of Well-Being
Well-being, both mental and physical, are the most precious qualities in life we have. Because if you're not well, it doesn't matter whether you get a promition, create the next unicorn or even win a Nobel prize.
This expert panel with Sumayya Vally (Counterspace), Jeanne de Kroon (Zazi Vintage), Nina Gualinga (Indigenous Rights Activist) and Moran Cerf (Kellogg School of Mangement), moderated by Mikolaj Sekutowicz from Therme Group, explores what well-being truly means – and how we can achieve it even under the pressures that modern life creates.
Ecuadorian Nina Gualinga grew up far away from cell phones, cars and electricity. To her, well-being means "fertile soil, fresh water, clean air, solidarity of the community and our family – and happiness. That is what we define as well-being, as progress. If the planet is healthy, so are we."
Sumayya Vally calls for listening to our ancestors and reconnecting with nature and each other. The South African looks at well-being from an architect's point of view: "We need to listen to the ground, we need to listen to what's under our feet, we need to listen to our ancestors. And in doing that, we also listen to the present and the future."
Researcher Moran Cerf points out that science can test the validity of traditional beliefs. "We rediscover a lot of things that people have known for a while", he observes. "And what science does that's really nice, is it adds rigor to that in a way that is replicable and controlled."
For Jeanne de Kroon, the essence of well-being is "creativity and art". Because – like every industry in the world – they have the power to create narratives and new perspectives, she argues.
The fashion industry "has the power of great destruction but also the power of great change", de Kroon says, pointing to pollution but also the cultural influence of the industry.
More DLD Talks
What's the next step of the digital transformation in business and society? That question is at the core of this engrossing DLD Munich session, which brings together Andrew McAfee (MIT Sloan School of…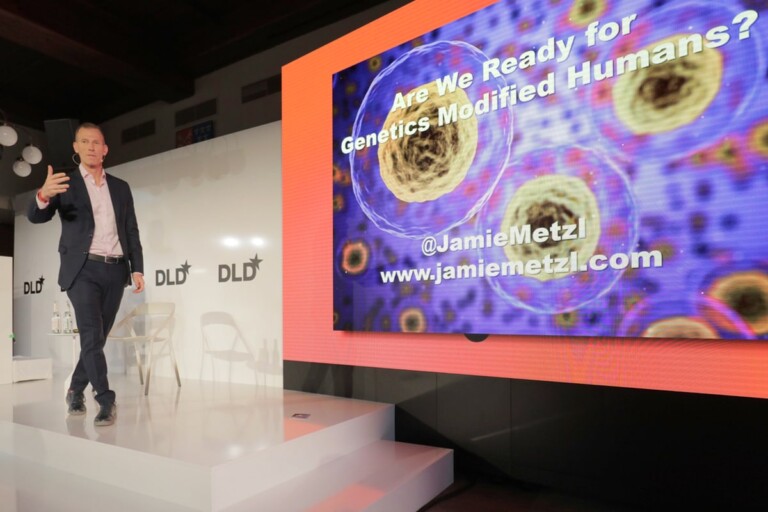 New tools like gene editing allow humans to change nature to their liking. Jamie Metzl, author of Hacking Darwin, illustrates what's now possible and asks how far we should go.