DLD Video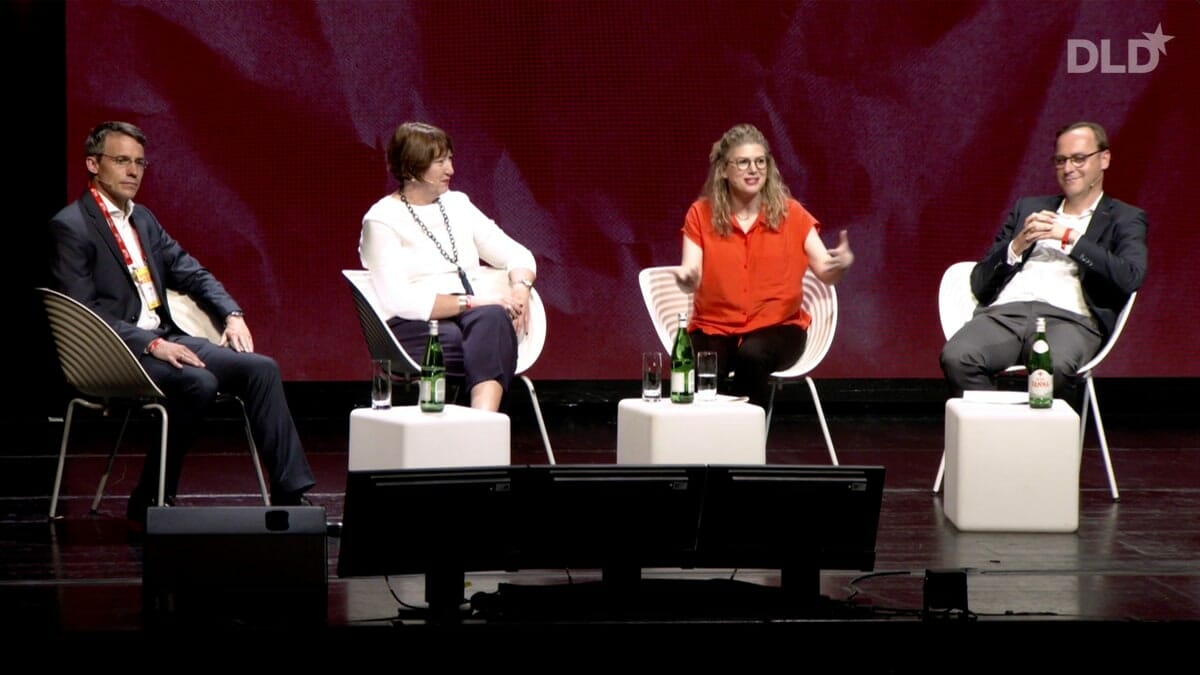 Qbits For Climate
How can quantum computing have a gigaton impact on decarbonization? This expert discussion moderated by Deborah Berebichez (VTT) highlights the most promising applications for next-generation supercomputers. The panelists are Philipp Ernst (McKinsey), Hildegard Müller (Automotive Industry Association), Jeremy O'Brien (PsiQuantum) and Markus Pflitsch (Terra Quantum).
"We believe that there will be breakthrough applications specifically evolving around chemistry-type applications", Philipp Ernst says.
For new study, McKinsey looked at some 150 use cases "across all different areas of climate technologies", Ernst reports, asked "what are computational problems that face bottlenecks" and which of these could be solved by quantum computing?
Some of the most promising applications, Ernst says, are in battery development, clean energy solutions and material science.
Hildegard Müller sees great opportunities in e-mobility but also traffic optimization. "Quantum computing can help us a lot to learn" and make fleet management more efficient, she says.
Why quantum computers are so powerful
Instead of calculating with zeros or ones these novel machines use so-called qbits, which can have multiple states at the same time.
"Right now it's still in its infancy, but if the technology works out it can give way to calculations that are unprecedented, such as very complex optimization problems, new materials, drugs etc.", Deborah Berebichez – a lead scientist at Finnish research institute VTT – explains.
A collaboration between Mercedes-Benz and Californian startup PsiQuantum shows the potential in battery research.
"No one on planet Earth understands how a lithium-ion battery works" – even though we use them all the time, PsiQuantum CEO Jeremy O'Brien points out. The reason? "There's some chemistry going on that nobody understands. And what's worse is that we will never be able to simulate that chemistry on any conventional computer."
Quantum computing gives new hope to the effort, O'Brien says, but one big challenge is making these new computers more reliable – or "fault tolerant". The research with Mercedes "is a multi-year project", he emphasizes.
For those who need solutions right away, Terra Quantum tries to bridge the gap with a hybrid approach, as Markus Pflitsch, CEO of the Swiss quantum computing pioneer, explains. His company has found a way to run software written for quantum computers on traditional, digital machines.
This way, "we can deploy the quantum software of the future already today", Pflitsch says. In energy, Terra Quantum works on reducing emissions from biomass power plants and optimizing shipping routes for LNG deliveries. In retail and logistics, the firm tries to minimize the number of empty miles.
"The goal, of course, is to do more with less", he says, for example "less energy, which is already a positive contribution to climate."
By loading the video you agree to the Privacy Policy of
Vimeo
.
More DLD Talks
This DLD Summer session sees the world premiere of a car: The MINI Vision Urbanaut was designed to make the most of limited space in bustling cities, while at the same time leading…
Geopolitics and economics are deeply intertwined. In this talk, experts from both sides discuss how companies can navigate the current global geopolitical situation. "Geopolitics is back", Ann-Kristin Achleitner notes at the outset of…