DLD Video
Civil Society & Tech: A Benevolent Partnership?
While technology companies have brought many positive developments to our world, they have not always lived up to their responsibilities towards society. LinkedIn founder Reid Hoffman, now a partner at investment firm Greylock, and WaitWhat CEO June Cohen discuss what should be done to make tech giants live up to their promises – and what startup founders should consider when growing their businesses to a size that affects all of society.
WaitWhat
June is co-founder of WaitWhat, a US-based media invention company that creates and owns premium content. WaitWhat's properties include the Webby Award-winning Masters of Scale (hosted by LinkedIn co-founder and Greylock partner Reid Hoffman), the genre-defining hit Meditative Story (in partnership with Arianna Huffington's Thrive), and the provocative and timely Should This Exist (hosted by Silicon Valley Internet pioneer Caterina Fake).
Greylock
An accomplished entrepreneur, executive, and investor, Reid Hoffman has played an integral role in building many of today's leading consumer technology businesses. In 2003 he co-founded LinkedIn, the world's largest professional networking service, and joined Greylock in 2009. He serves on the boards of numerous companies and not-for-profit organizations and is also the host of the Masters of Scale podcast.
More DLD Talks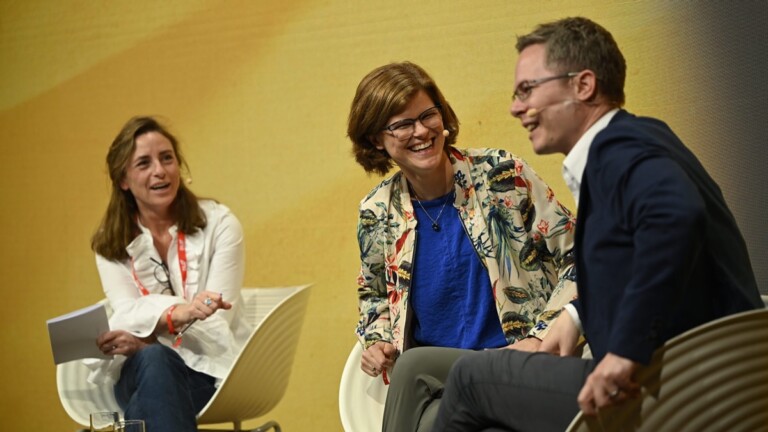 How can AI bring real value to businesses and the economy overall? This conversation between Daniela Gerd tom Markotten (Deutsche Bahn) and Andreas Liebl (appliedAI), moderated by Alexandra Mousavizadeh (Tortoise Media) offers many…
From smartphones to VR goggles, the combined power of art and technology is rapidly changing the possibilities of both our imagination and reality. This DLD20 panel brings together Snapchat co-founder Evan Spiegel, artist Alex…