DLD Video
Accelerating the Transformation of Our Economy
The world does not have much time left. We are facing multiple crises that threaten our very existence and demand urgent action. In this DLD Munich 2022 session, Telefónica Germany CEO Markus Haas and journalist Tanit Koch (The New European) discuss tomorrow's technologies and their potential to transform the global economy.
Both the corona pandemic and the Russian war on Ukraine have shown that political leaders can respond in uniso. Now, Haas demands, politicians must show similar resolve in fighting the effects of climate change.
"We can actually be really good, we can be much faster than we thought", he says. "Things that normally take years could happen in a few days. If we want to, and if we really focus."
A precondition for meeting climate goals is accelerating digital change, Haas notes, pointing to industry leaders like Elon Musk who have a record of making their actions speak louder than words. "There should be trust: the industry can deliver", Haas says.
Whether it comes to climate protection, building the Metaverse or industrial applications, to make the most of its many opportunities Europe needs to become more resilient and gain digital sovereignty, the Telefónica Germany CEO argues.
"The currency now is data, and we give it away for services", he observes. "We need to create our own destiny, we cannot only rely on other platforms."
But how can Europe achieve digital sovereignty, given that some 90 percent of Western data is stored on U.S. cloud services, Tanit Koch asks. Haas is optimistic, at least regarding Germany, in part due to the goals that the governing coalition of Social Democrats, Geen party and Liberal Democrats have set.
"We have a vision", Haas says. "That was missing a little bit in the past." And if there are clear priorities like reaching climate neutrality and building the best digital infrastructure, "companies know where to go and what to target for".
By loading the video you agree to the Privacy Policy of
YouTube
.
The New European
Tanit Koch is a German journalist, columnist and moderator. She currently writes the column Germansplaining for the British weekly The New European. Previously, Koch was the editor of RTL Germany's central newsroom and managing director of the news channel ntv.
Telefónica Germany
Markus Haas has been Chief Executive Officer (CEO) of Telefónica Germany since January 2017. Previously, he had been the company's Chief Operating Officer (COO) since 2014. As COO he was also responsible for the operative integration of Telefónica and E-Plus following the acquisition in 2014.
More DLD Talks
What happens when humans become digital? This is the question that Dr. Divya Chander – a physician and neuroscientist who trained at Harvard, UCSD, UCSF and the Salk Institute – delves into during…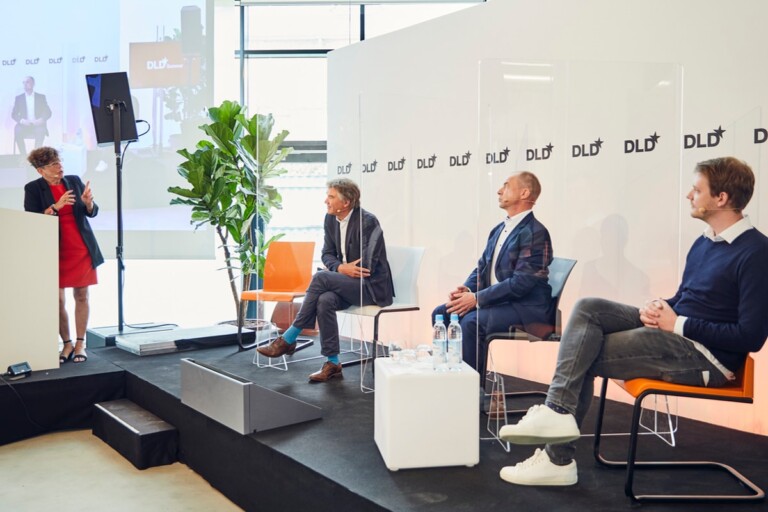 Space exploration is a billion dollar global market. It holds the promise of creating unforeseen business opportunities as well as solving global challenges. Big players and visionaries out of the United States are…