The Tech Race To Contain Covid-19
Scientists and engineers are working around the clock to make the best of new technologies in fighting Covid-19, the disease caused by the SARS-CoV-2 coronavirus. To save lives and contain the pandemic, the world needs faster testing, better tracking of infections and new drugs to cure patients and prevent others from falling ill. How can data analytics, automation and artificial intelligence help to speed up the search for solutions? Here's an overview.
Testing, Testing, Testing
The numbers are puzzling. Some countries seem to have relatively few infected people but a high death toll – while others, like Germany, manage to keep the mortality rate low despite registering tens of thousands of infections.
Part of the explanation lies in different healthcare systems, average population age and the availability of intensive care units for critically ill patients. But much of it comes down to testing. More tests mean more reliable data on the actual extent of the coronavirus outbreak. If only people get tested who show symptoms of the disease, many cases remain undetected and the infection can spread more quickly, more widely.
A lack of testing capacity has hindered efforts to slow the coronavirus outbreak in many countries. In addition, a typical lab test can take days to yield results. The good news is that a number of rapid Covid-19 tests are becoming available that promise immediate results – in hours or even minutes, not days.
Bosch promises "reliable test results in under 2.5 hours" with its new, automated Covid-19 test which utilizes the German company's Vivalytic devices. In Britain, several universities are developing a molecular test which, in combination with a smartphone, "would let people who are self-isolating test themselves, and allow health care workers test both patients and themselves", the scientists say. This would be a great boon for the country's healthcare system which currently suffers from a low virus testing capacity.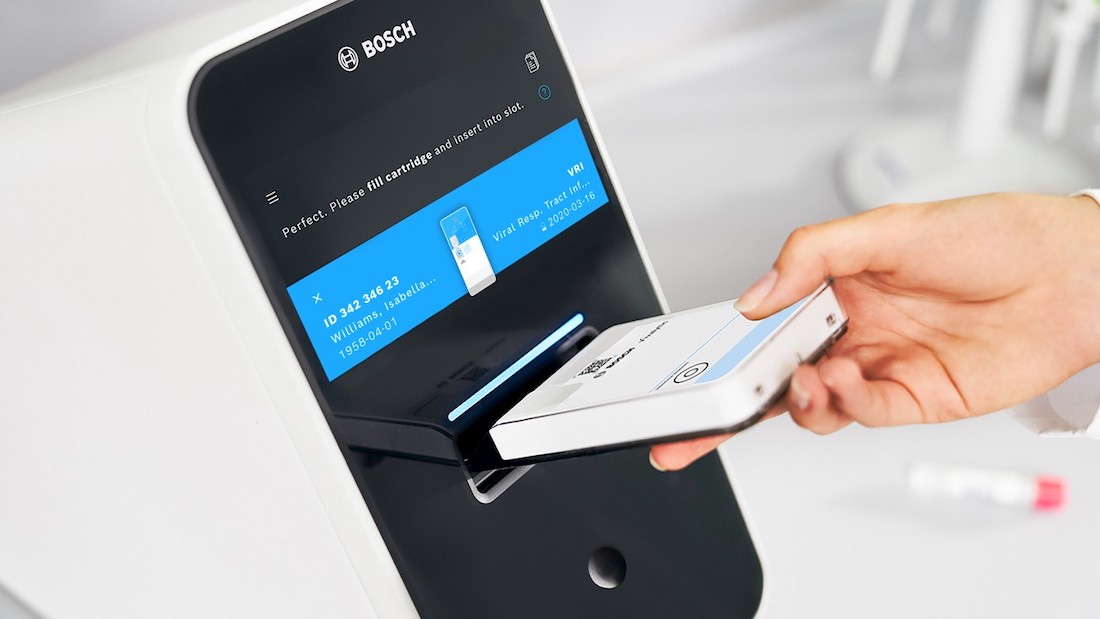 Quick check: Bosch's new Covid-19 test delivers results in under 2.5 hours, is fully automated and can also be used to diagnose nine other respiratory diseases, the company says.
The United States rushed to approve a new molecular Covid-19 test that can deliver "positive results in as little as five minutes and negative results in 13 minutes", according to its manufacturer, Abbott. As the company is ramping up production, however, initial availability is limited to some 5,500 units – not nearly enough for a country of almost 330 million people which has recently become the nation most affected by the coronavirus pandemic.
Another rapid test developed in the U.S. could bring relief to many developing nations as well, as it is compatible with a widely used diagnostics system called GeneXpert. The test provides a Covid-19 diagnosis in 45 minutes or less, its maker, the Californian company Cepheid, says. Critics have accused Cepheid of overcharging for its test, which costs $20 in low- and middle-income nations and $35 in high-income nations. Even at $5 per cartridge, "each test could be sold at a profit", the humanitarian aid organization Doctors Without Borders says.
Equally crucial will be the development of tests that check for antibodies – signs that a person's immune system has successfully battled the coronavirus. This would allow people who pass the test to overcome "social distancing" and return to work without risking an infection. Many companies and university researchers are racing to develop these so-called serological tests, but there's concern over their accuracy and a big unknown in such a new disease: How long will immunity last, even if people initially pass the test?
Tracing Infections
China's reaction was quick and relentless. Once the government had acknowledged that the coronavirus outbreak in Wuhan posed a grave threat to the country, law enforcement agencies turned to a range of cutting-edge technologies to enforce an absolute lockdown of the region.
Face recognition, artificial intelligence, mobile phone tracking and location data – all of these tools served to monitor the behavior of millions of people in real time. Anyone refusing to obey risked fines or even prison.
Many experts see this strict government response to the coronavirus outbreak as a main reason for China's apparent ability to "flatten the curve", meaning that the official number of new infections quickly leveled off after the initial, exponential increase of Covid-19 cases. (Some observers, it must be noted, doubt the validity of the official Chinese statistics.)
Western democracies now face a conundrum: How can they fight the pandemic efficiently without curbing their citizens' rights beyond the necessary minimum?
A pan-European group of universities and software companies proposes a novel "proximity tracing" platform called Pepp-PT which is designed to collect potentially life-saving data on the infectious disease without compromising user privacy.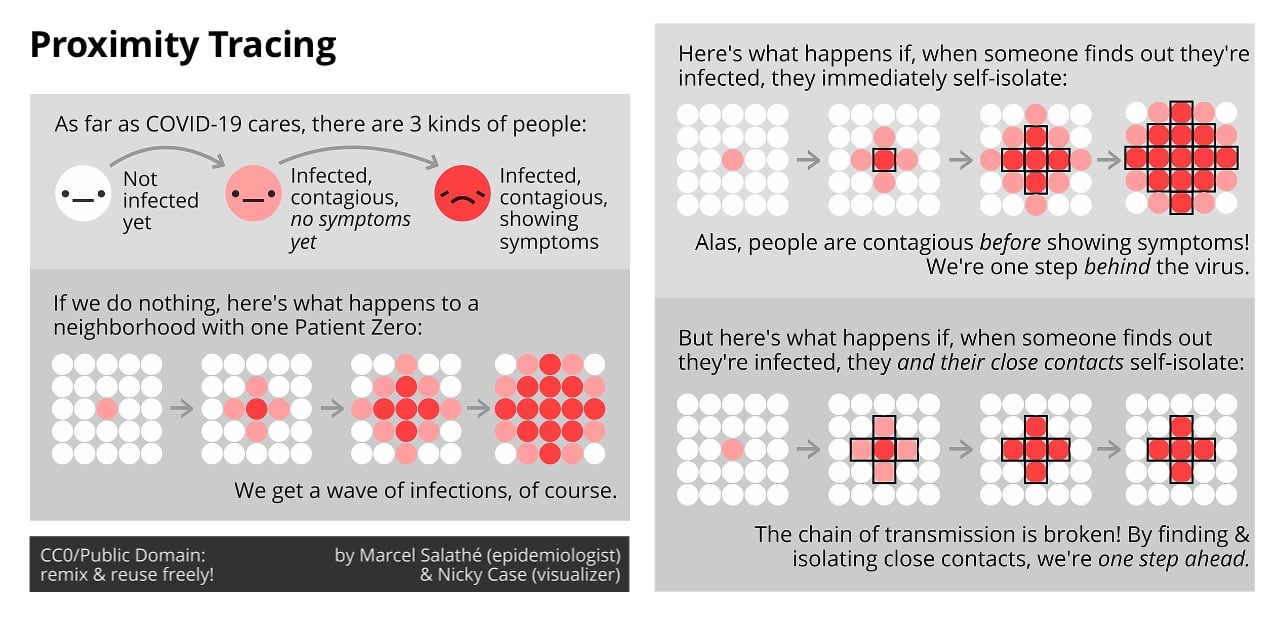 Illustrating the outbreak: This infographic by the Pepp-PT developers shows why it's important to identify who could have infected others with the coronavirus – even before showing any symptoms.
The basic concept is simple: Participants install a mobile app on their smartphone to exchange anonymous information with other users about who else is nearby. The phones wirelessly keep track of each other via Bluetooth signals, sending cryptic codes that serve as identifiers but do not reveal the name of the phone's owner or any other personal information.
All data is stored directly on the phone, according to the developers, and gets accessed only when a user is diagnosed with Covid-19. In that case, local health officials issue a code that makes it possible to unlock the data. This allows Pepp-PT researchers to analyze the identifiers stored on the phone of the patient and alert other users who were in close contact with the infected person before the diagnosis.
"This is an extremely infectious virus, even at a time when people show no symptoms – so you need be able to look back and find these connections", explains Chris Boos, founder of Arago, a German data-analytics company that is part of the initiative.
Crucially, the new system relies on voluntary participation every step of the way. For the Pepp-PT project to be successful, millions of people must be willing to install an app, keep Bluetooth activated and – should they be diagnosed with Covid-19 – volunteer to share the data stored on their phones.
Boos hopes that the emphasis on privacy will make it easier for people to opt in. "In Europe, we're big believers in personal freedom and data protection", he says. But he also sees a need for digital technology that helps to trace the virus. "And we're showing that it's possible to do this without violating people's privacy."
There's no record of users' locations, Boos explains, because "real-time tracking is only useful for finding out if someone is violating a quarantine" – and in a democracy this purpose "does not justify constant surveillance", Boos argues.
Developed by some 130 contributors in just three weeks, the Pepp-PT platform is designed for openness and interoperability. "We gladly welcome new partners into our team", the group's manifesto states. Already the project has brought together almost 20 universities, companies and organizations from all over Europe. The technology allows for data to flow across borders in case users are diagnosed with Covid-19 and agree to have their connections analyzed.
Instead of releasing its own app, the group invites others to do so – and hopes that the result will be a healthy competition of ideas and designs which can address different needs and attract more users than a single app would be able to.
At the same time, all developers need to adhere to the group's standards, ensuring that users can trust any app approved to participate in the project. "We're here to convince people that their data is safe", Boos explains. "Otherwise all app developers would have to do that on their own."
With the first apps expected by mid-April, the platform designers hope that user adoption will quickly follow – ideally all over the world. "Our goal is to see global adoption by as many people as possible", Boos says. Given that the virus can otherwise travel undetected, he reasons that tracing it as closely as possible will be the only way to give humans their freedom back to move around and meet each other – without losing their privacy along the way.
This view is supported by a new study on contact tracing whose authors conclude: "A contact-tracing app which builds a memory of proximity contacts and immediately notifies contacts of positive cases can achieve epidemic control if used by enough people. By targeting recommendations to only those at risk, epidemics could be contained without need for mass quarantines ('lock-downs') that are harmful to society."
Our coronavirus primer: Everything you need to know about the pandemic in one place.
Connected Ingenuity
Collaboration is key in quickly responding to new challenges. The Internet has allowed researchers, inventors and developers all over the world to pool their knowledge and launch projects at an unprecedented speed. Here's a selection.
3D Printing Platforms
Prototype 3D-printed mask. (Photo: Siemens)
Additive manufacturing, better known as 3D printing, came to the rescue in Italy when hospitals needed spare parts for respitators. Siemens has opened its Additive Manufacturing Network to healthcare providers and medical designers "to speed design and production of medical components". In the U.S., a similar effort has brought together university researchers and companies to produce 3D-printed test swabs and other medical supplies.
Sharing Insights
Google's Covid-19 public dataset program. (Illustration: Google)
By collecting all openly available information on the Web, search engines are natural hubs for data on the coronavirus pandemic. Microsoft's Bing has created a Covid-19 tracker that shows live data on a map, similar to the one available at the Johns Hopkins University resource center. Google is making scientific research from various sources available in its Covid-19 public dataset program. Researchers can also use Google's AI cloud service BigQuery ML "at no additional cost", the company says. Other platforms, like the Global Initiative on Sharing All Influenza Data (GISAID), are also helping scientists around the globe to better understand the new virus. "Never before", the New York Times reports, "have so many of the world's researchers focused so urgently on a single topic."
Supercomputing
Raw power: a quantum computing chip by D-Wave Systems Inc.
Modeling the spread of the virus, optimizing hospital resources and supply chains, analyzing new methods of diagnosis – in all of these areas quantum computers could prove enormously helpful, given their ability to perform complex tasks at lightning speed. D-Wave, a Canadian quantum computing provider, is giving researchers working on responses to the Covid-19 crisis free access to its infrastructure. Participants in the iniative include the QAR Lab at LMU Munich, Forschungszentrum Jülich as well as a number of other international research organizations and companies. Scientists at the Lawrence Livermore National Laboratory combined artificial intelligence, bioinformatics and supercomputing to search for antibodies and potential drugs to combat Covid-19. They managed to identify "about 20 initial, yet promising, antibody designs from a nearly infinite set of potentials", the lab reports.
Related DLD Talks
Accenture's Paul Daugherty and Airbus executive Grazia Vittadini take a close look at AI and quantum computing: Where are we now, and what will be possible tomorrow?
Looking beyond the hype, Arago CEO Chris Boos and Columbia University's R. A. Farrokhnia talk about what artificial intelligence can really do.