Sir Martin Sorrell, Executive Chairman of S4 Capital and longtime CEO of advertising giant WPP, minced no words in his DLD Sync session with DLD Co-Chairman Yossi Vardi. He predicted the coronavirus crisis will bring higher taxes for companies and the wealthy, called for better cooperation between the U.S. and China, and saw big changes coming to companies that have so far resisted digital transformation. You can watch a recording of the session below.
Sir Martin Sorrell is Executive Chairman of S4 Capital, which is building a new age, new era, digital advertising and marketing services platform for global, multi-national, regional, local and millennially-driven clients. Prior to founding S4 Capital, Sir Martin had been CEO of WPP for 33 years, building it into the world's largest advertising and marketing services company.
Dr. Joseph (Yossi) Vardi is a co-chairman of DLD.
With 40 years experience of co-founding, leading and participating in building over 60 high-tech companies, he is one of Israel's early digital technology entrepreneurs. Vardi is a pioneer of instant messaging. He was the founding investor and Chairman of Mirabilis Ltd., the creator of the highly popular instant messaging program ICQ later acquired by AOL.
What will the shape of the economy be once the coronavirus crisis subsides? Will it look like a V, resembling a sharp drop and a similarly rapid rebound? Or a W with several ups and downs? Or perhaps an L, indicating a sudden fall, followed by future business on a much lower level?
Sir Martin Sorrell said he was generally optimistic. "A V-shaped recovery will not come in every vertical", he told the DLD Sync audience in a conversation with Yossi Vardi. "There will be Ls, the will be Ws, and reinfection is an ever-present danger."
But overall "there is a lot of ingenuity and brain power" applied to recovering from the crisis. "Don't underestimate the ingenuity, the money, the intelligence of the entrepreneur", he advised, predicting that "the rise of bio-science will escalate" in the wake of the pandemic.
What gave him hope for a V-shaped rebound in a number of industries, Sir Martin said, was that many governments and central banks had quickly responded to the challenge, offering financial support on an almost unprecendented scale. "We're talking about huge amounts of money. The institutions are basically saying: We'll do anything to get this done."
As the crisis plays out it's also becoming a catalyst for change in many corporations that had been hesitant to fully embrace digital transformation. "Before Covid, they were reluctant to disturb the status quo through accelerating digital transformation", Sir Martin observed. "Now all bets are off." There's no longer a downside to questioning established structures and business models, he argued, so top executives are more willing to try out new approaches.
By changing consumer behavior the pandemic will also amplify trends that had started before. Echoing Scott Galloway, Sir Martin pointed to Amazon and Walmart as big winners of the increasing shift to online shopping. Amazon in particular won his praise. "The key skill they have is agility", Sir Martin said. "They turn on a sixpence."
In geopolitics, the S4 Chairman sees an increasing rivalry between the U.S. and China, with a troubling lack of communication between political leaders. "Your're not going to stop the rise of China", Sir Martin argued. "So we will have to find a way of coexisting constructively." The nations would have to develop a better relationship and solve their issues. "If they don't we'll see severe repercussions. It already has, because more and more we're looking inward."
The pandemic is also likely to increase the inequality between rich and poor countries, Sir Martin said. "The suggestion that corona affects everybody equally is nonsense! It affects everybody unequally." Nations and individuals rich in ressources "can handle it much more effectively."
As a result, Sir Martin predicted, "the developed countries are going to come out of the crisis stronger than the developing countries." To counteract the rising inequality, "it is essential that we work out a better way to cooperate", he argued, adding that ultimately this was in the best interest of all countries.
"One of the problems with corona was the lack of international cooperation. At least with the financial crisis that we had in 2008, there was cooperation in trying to deal with it."
Another long-term effect of the coronavirus crisis might be a policy reversal in Western nations. For decades, following the eras of Ronald Reagan and Margaret Thatcher, "capital as a proportion of GDP has risen while labor has fallen", Sir Martin observed – prompting various governments to lower taxes on companies and wealthy individuals.
But this is likely to change, he predicted, because the massive stimulus packages cannot be financed by debt alone. "This is a changing point", Sir Martin said. "The only way that we will be able to pay for this is by heavier taxation. You can't go on printing money. Otherwise the system will bust through excessive inflation."
Watch the full DLD Sync session with Sir Martin Sorrell and Yossi Vardi.
NYU Prof. Scott Galloway explains why the coronavirus pandemic is likely to make tech companies even more powerful and change entire sectors of the economy…
Read More »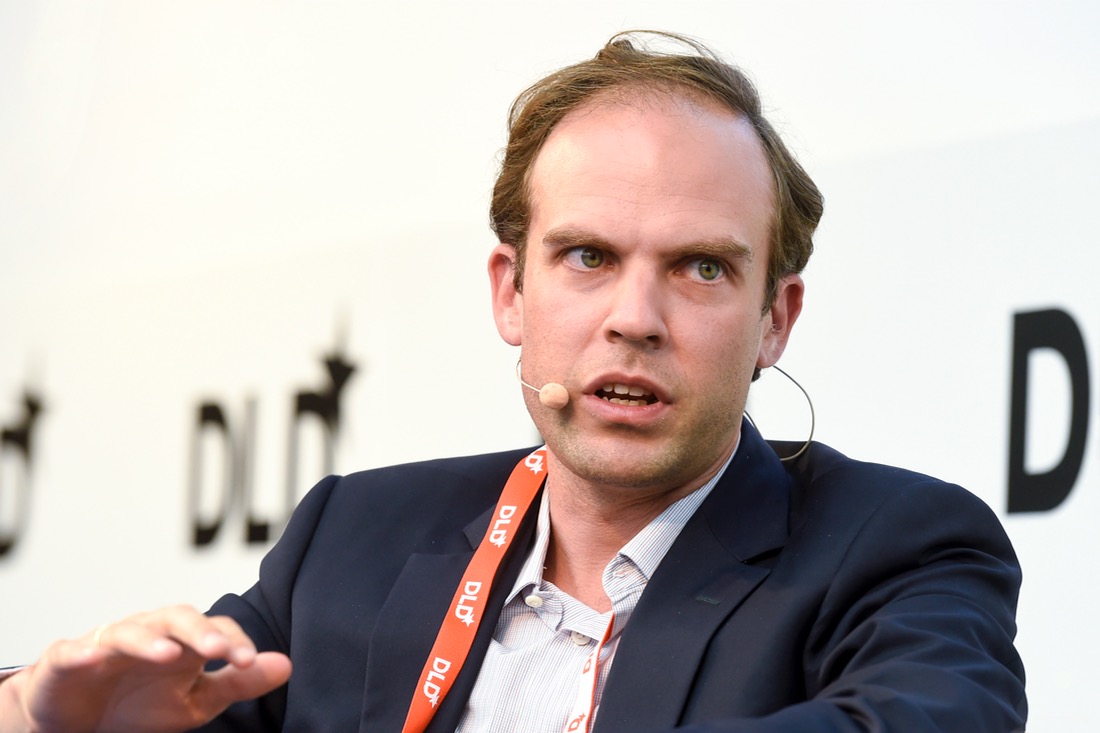 In the first DLD Sync session, Oxford economist Carl Benedikt Frey shares his insights on the future of work, automation and the economy after Covid-19.
Read More »