DLD Munich 2023
January 12 – 14, 2023 ‧ House of Communication
Take a look at DLD23 highlights: videos, images and related articles – all on one page. Enjoy!
Newsletter
Articles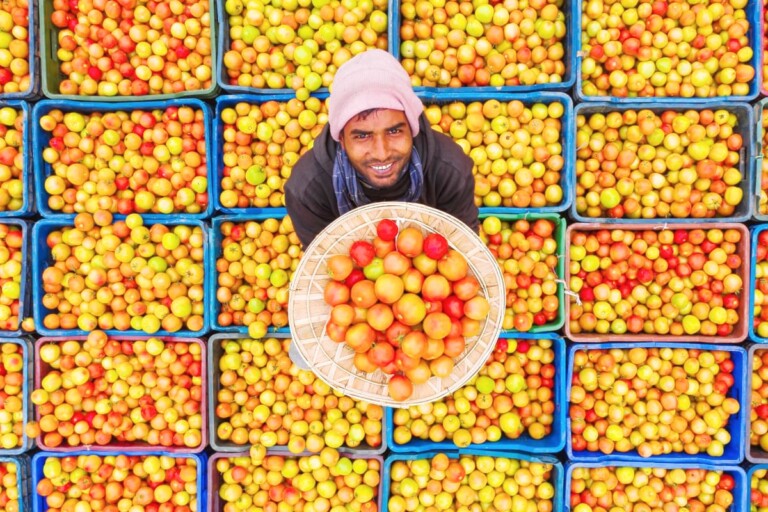 Climate Action: How Smart Farming Can Cool the Planet Down
The best way to reverse greenhouse emissions is to rethink agriculture and food production from the ground up, experts agree – because earth knows how to keep its temperature down.…
How Ecosystems Power Progress
Innovation is a global competition, and many regions try their best to win. But what does it take to create future champions? These DLD23 expert talks give answers.
Highlights
Pivot Live: Scott & Kara Take Munich
Kara Swisher, Scott Galloway
Aenne Burda Award for Creative Leadership
Steffi Czerny, Ebru Baybara Demir
Brighten the Future by Miracle of Heritage
Artificial Intelligence & Robotics
Robotics & the Industrial Metaverse
Sami Haddadin, Quirin Görz, Jennifer Schenker
Generative AI: Opportunities for the New Age of AI
Jonas Andrulis, Ludwig Ensthaler, Christian Teichmann, Tina Klüwer
A Call for Human-Centered AI
James Landay, Amy Wilkinson, Andrew Keen
Will Machines Think?
Richard Socher, Jochen Wegner
Society, Politics & Business
A Geopolitical Compass for Companies!?
Wolfgang Ischinger, Jeffrey Rosen, Roberto Viola, Ann-Kristin Achleitner
Pixels of Progress: A Granular Look at the Development Around the World
The Future of Travel
Kathrin Anselm, Marc Al-Hames, Marcy Simon
Feeding the World – A Message of Hope
Clean Tech & Sustainability
Clean Tech: The Driver for Exponential Change
Jennifer Dungs, Cris Moreno, Christian Vollmann, Boris Wasmuth, David Wortmann
Changing the Food Ecosystem
David Bucca, Olaf Koch, Henrik Stamm Kristensen, Manon Littek
Beyond NOW: A Climate-Neutral World
Andreas Urschitz, Anne Kawalerski, David Kirkpatrick
Energy: Now & Beyond Now
Heike Freund, Christian Hartel, Philipp Schröder, Philipp Gerbert
Startups, Innovation & Investing
Driving Systemic Change in VC
Mark Schmitz, Fabian Heilemann, Gloria Baeuerlein, Christian Bailly
From Start-up Nation to Scale-up Nation
Entering the Exponential Age
The Future of Search
Brendan Eich, Sridhar Ramaswamy, Marc Al-Hames
Frontier Technologies
To Boldly Grow... Live Brain Cells that Learn to Play Pong
News in Neuroscience
Mary Lou Jepsen, Howard Morgan
Quantum Is Now
Markus Pflitsch, Zina Jarrahi Cinker
How DNA Origami Disrupts Medicine and Becomes the New Cornerstone of Nano Robotics
Hendrik Dietz, Christian Sigl, Jean-Philippe Sobczak, Klaus Wagenbauer, Nicola Kegel
Space & Mobility
From Digitalisation to Hydrogen: How Technology Shapes Future Mobility
Autonomous Flying Systems
Lorenz Meier, Benedikt Franke
Future of NewSpace & Satellites
Bulent Altan, Matt Marshall, Joram Voelklein
Astrobiology
Andreas Burkert, Barbara Ercolano, Petra Schwille, Sibylle Anderl
Arts, Media & Culture
It's a Bloody Mess! Solving One of Music's Biggest Challenges
Björn Ulvaeus, Niclas Molinder
Let the Games Begin
Oana Ruxandra, Joost van Dreunen, Micaela Mantegna
Future of Fashion – A Brave Outlook
Giuliano Calza, Hans Ulrich Obrist, Arnaud Vaillant
Digital Transformation
(Why) Innovation Beyond NOW Has to Be Systemic
The EU-US Tech Gap
Erik Brynjolfsson, Andrew McAfee, Zanny Minton Beddoes
The Evolution of the Nigerian Tech Ecosystem
Inuwa Kashifu Abdullahi, Ludwig von Bayern
The New Age of Transformation
Peter Koerte, Priscilla Chomba-Kinywa, Greg Williams, Christina Raab
Looking for upcoming events? Please check our Conference Highlights page.