How China Is Leading the Way in Artificial Intelligence
Bestselling author Kai-Fu Lee explains why China has an advantage in benefiting from artificial intelligence, and what Europe needs to do to make up for lost ground.
There's the robot that will serve your dinner at the restaurant. Or its colleague delivering groceries to your doorstep. Or the teacher who only exists in digital form, as an avatar in a virtual world, yet helps to educate millions of children – in some ways better than its human counterparts.
If you happen to live in China, none of this is science fiction anymore, as futuristic as it may sound. From Beijing to Guangzhou, artificial intelligence (AI) is "really moving towards pervasive use", says Kai-Fu Lee, one of the country's best-known experts in the field. Formerly a top executive at Microsoft, Apple and Google, Dr. Lee now heads the investment firm Sinovation Ventures that he co-founded in 2009.
"Traditional companies are becoming really smart in using AI, from Ping An insurance to a number of taxi firms working with robo taxis, and the list goes on", Dr. Lee told Techonomy editor David Kirkpatrick in a recent DLD Sync conversation. (Video below.) He went on to predict that "the infusion of AI into traditional businesses is what will create the greatest value."
China In the Lead
Artificial intelligence has long been predicted to turbo-charge the digital transformation of our lives, yet again. But it's also a technology that raises many questions and brings up fears – about job security, privacy, and social justice, among others.
This is particularly true in Europe, which may explain why the continent is widely seen as lagging behind in embracing the new technology. "The United States and China are ahead in the AI competition", the authors of a Carnegie Endowment report conclude. "Europe as a whole is punching far below its weight."
Kai-Fu Lee
Dr. Kai-Fu Lee is the Chairman and CEO of Sinovation Ventures and President of the company's Artificial Intelligence Institute. Sinovation Ventures is a leading venture capital firm focusing on developing the next generation of Chinese high-tech companies. Prior to founding Sinovation in 2009, Dr. Lee was the President of Google China. Before that, he held executive positions at Microsoft, SGI, and Apple.
Much of this comes down to the lack of a common market and weaker government support. "On a governmental level, both the US and China are investing significantly in R&D and prioritizing Al in their national budgets", McKinsey observes. While both nations spend billions on advancing AI research, "the EU invested around 275 million euros per year from 2014 to 2017 under its Horizon 2020 program."
China is also leading the way when it comes to turning research into products. "China excels in commercializing AI because the size of its economy creates a large market for such applications", consultancy BCG writes in a recent report. "In addition, coordinated government support has resulted in the rise of an adequate number of industrial ecosystems." Chinese tech giants like Alibaba, Tencent and Haier "play a key role in ensuring" that businesses are adopting digital solutions at every level, the authors note. This is in line with the government's stated goal of making China a world leader in AI by 2030.
AI champions: While the U.S. is still unmatched in research and development, China is ahead in deploying AI systems, BCG concludes. Europe plays catch-up, with some countries strong, others far behind.
Covid-19: The Accelerator
As in many other areas, the coronavirus pandemic has become a driver of change, speeding up the implementation of new solutions that are likely here to stay.
Take dining out, for example. "Covid really pushed up the capabilities of robotics in China, because of the need for social distancing", Kai-Fu Lee says. "In many restaurants, the robots are serving the food." They don't have hands or legs, he clarified. "They're basically carts that move to your table." But that's enough for the purpose. Diners order from an app, and the robot brings the food.
Similarly, delivery services in China are now routinely sending out machines to fulfill orders. During the DLD Sync webinar Dr. Lee's phone could be heard ringing. "That was the robot bringing my grocery to my apartment", he explained. "I actually asked them to turn off the robot from ringing my bell. But I think they still called me."
This kind of service may not be available everywhere but it's becoming more common. "Any apartment or hotel that chooses to spend the money can have it built in", Dr. Lee said. "Because, you know, autonomous vehicles are hard. But a robot to your apartment is easy."
The reason is that in a restaurant or residential complex the machine operates in a controlled environment – one that's much easier to navigate than the chaotic streets of downtown. The same effect explains why AI and robotics are quickly making advances in agriculture, with drones monitoring crop growth and autonomous vehicles doing the harvest.
Kai-Fu Lee

Sinovation Ventures
"It turns out agriculture is an easier space to apply robotics than manufacturing, because actually farms are more like each other than factories."
"A farm is a farm, relatively similar", Dr. Lee said. "That, I think, is a huge opportunity to allow the whole world to produce much more produce at a much lower costs. And that can help eradicate hunger over time."
AI in education promises to have equal benefits. And while many Western countries have struggled to keep schools open during the pandemic, China is charging ahead.
"The Chinese kids are getting such amazing online education nowadays", Dr. Lee said as he enthusiastically described teachers that – in the virtual world – could easily turn into cartoon characters and teach children basic knowledge in much more entertaining ways. "All of the best Chinese educational online tools are fully interactive", he explained, adding that these tools are accessible everywhere. "The education is pervasive in the country, because it's just an app."
By being inexpensive, AI teaching "actually makes education affordable to all the people", Dr. Lee pointed out – with the promise of delivering better results as a bonus. "There are actually measures that show the students are scoring higher with online learning, and are also more engaged and more satisfied."
Ranking the Tech Giants
How well are Amazon, Apple, Facebook, Google and Microsoft positioned when it comes to artificial intelligence? Here's Kai-Fu Lee's take, as described to David Kirkpatrick in their DLD Sync session.
The Value of Data
Much of today's AI is based on self-learning algorithms that are trained on huge amounts of data. "The same way that Amazon uses it to maximize sales [and] Facebook uses it to maximize user minutes, we can use it to minimize the suffering of the people who have Covid", Kai-Fu Lee explained. "You can use it to look over climate data, to discover solutions. You can use it for sustainability."
While the technology is amazingly versatile, its voracious appetite for data also raises privacy concerns and can result in AI systems that discriminate against women, minorities or people of certain ethnicities, due to biases hidden in the training data. (Watch the DLD talk by Joy Buolamwini, founder of the Algorithmic Justice League, for details.)
To Kai-Fu Lee, these are growing pains of a technology that holds enormous promise, and the challenges that today's AI systems face can likely be overcome, he argues. AI systems that explain their decisions could address the issue of bias and transparency, he said, and new approaches in machine learning allow information to be anonymized before they leave users' devices. "In each of these problems, people are looking at solutions", Dr. Lee said.
He also advocated regulation to protect consumers' rights, but warned against micro-managing the industry, particularly in Europe. "I would appeal to people to focus more on building a great product that solves users' problems", Dr. Lee said. An example could be "trusted devices that would protect the privacy" of users, he suggested. "I do think that opens an interesting opportunity for products made – maybe particularly suitable for Europe – that offer a high degree of protection of your data."
Indeed, the EU itself sees the ethical implementation of AI as key competitive advantage. "The EU can become a global standard-setter in the area of artificial intelligence (AI) ethics", the European Parliament notes in a recent whitepaper, concluding that "a common EU framework on ethics has the potential to bring the European Union €294.9 billion in additional GDP and 4.6 million additional jobs by 2030."
Room To Grow
In his bestselling book AI Superpowers, Kai-Fu Lee outlines four waves of artificial intelligence adoption. The first wave, he explained in his DLD Sync session, is the Internet because it offers a wealth of readily available data.
"So the Internet giants have got the lowest hanging fruit", he said, "and they've also become the AI giants. But there are three more waves coming, so there's more room for other big players."
AI in offices and factories, the Internet of Things, autonomous vehicles – all of these areas offer enormous opportunities for startups to disrupt the business models of established competitors.
More Insights From Kai-Fu Lee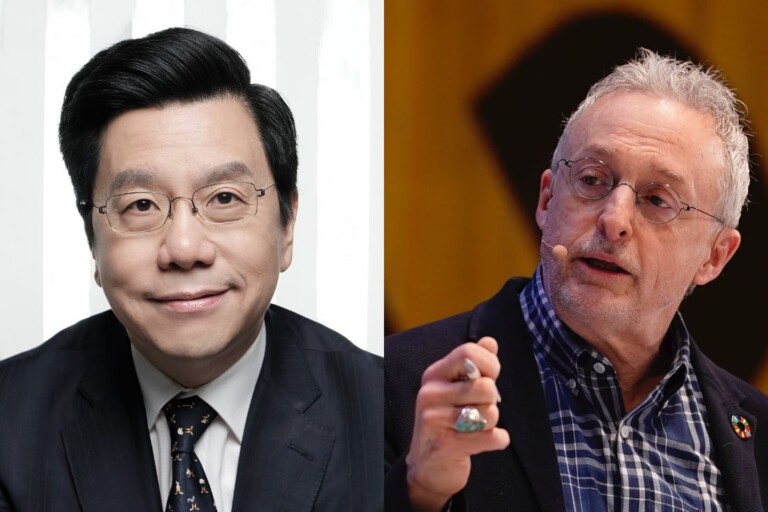 The pandemic has sent shockwaves round the world. It has also revealed in starker detail the critical role AI can play in addressing some of our global challenges. How is AI being implemented…
Artificial intelligence is a key technology, often seen as decisive for the future of whole nations: If you know how to build the smartest algorithms you can hope to conquer the world with…