In the spring of 2020, as the world plunged into into its greatest crisis in decades, market researchers at the communications giant Edelman made a surprising discovery: Their newest survey showed that government had quickly become the most trusted institution in the world – far ahead of the business sector, which had conquered the top spot in the company's annual Trust Barometer only months before.
The coronavirus pandemic had brought "a shocking revival for government", CEO Richard Edelman explained in a DLD Sync webinar on June 9, where he presented preliminary results from the new survey. Across eleven countries, almost two thirds of respondents said they trusted their governments to do what is right. The bump since January, from 54 to 65 percent, "is the biggest rise we've ever seen" in 20 years of doing this kind of survey, Edelman said. "It's the first time government has been most trusted. We believe this is because this is the biggest crisis since World War II."
Business leaders, meanwhile, were widely perceived to be lagging behind, Margot Edelman, who joined her father in the Sync session, explained. "We really see from the data: This is going to be a moment of reckoning for the business community", she said. "CEOs are failing to demonstrate the leadership that the public has expected of them during the pandemic."
DLD founder Steffi Czerny welcomes Margot and Richard Edelman to DLD Sync.
Margot Edelman leads the Technology Team for Edelman. Based in San Francisco and passionate about all things tech, she advises executives and business leaders on communications. Her clients range from tech companies to venture capital firms to well-known individuals.
Richard Edelman is the president and CEO of Edelman, a leading communications marketing firm, which employs some 6,000 people in more than 60 offices worldwide. As the creator of the annual Edelman Trust Barometer, Richard Edelman has become one of the foremost authorities on trust in business, government, media and NGOs.
Brand Message: Take a Stand!
Growing social unrest – in the U.S. and abroad – has become an additional challenge for corporate leaders. While many have historically shied away from getting involved in political discussions, the "Black Lives Matter" movement forces brands to act, Richard Edelman noted. "Brands that take a stand on racial inequality will benefit substantially", he argued. "If you don't you will be punished by people who assume you endorse the status quo. You have no choice today but to act."
His company's data indicated that "more than a third of people have already switched brands and convinced others to stop using brands based on taking a stand", Edelman said. "That's a big number!"
In fact, it got even bigger. In a survey published in late June, after the DLD Sync session, 40 percent of respondents said they had convinced other people to stop using a brand due to a brand's response to the pandemic (6 percent more than in April). And 44 percent told the market researchers that they had recently started using a new brand because they liked the brand's response to the pandemic. In all, trust in a brand has become the second most important purchasing factor after price, the survey revealed.
You can watch the full DLD Sync session with Margot and Richard Edelman below, which includes many insights from the company's Trust Barometer Spring Update.
Sync Scroll
The easy way to rediscover your favorite moments of the talk.
| | |
| --- | --- |
| Time | Topic |
| 0:00 | Intro by Steffi Czerny |
| 3:45 | Results from the Edelman Trust Barometer Spring Update 2020. |
| 6:30 | Survey results show "a shocking revival for government". |
| 8:10 | How long will the trend last? |
| 9:00 | Widespread fear, magnified by "the epidemic of fake news". |
| 10:30 | Social unrest in the U.S. over the death of George Floyd. |
| 11:15 | "The key point about Covid is: It has spotlighted societal inequity." |
| 12:35 | The perceived failure of business leaders: "We can really see that this is a wakeup call for CEOs…" |
| 14:55 | Winners and losers: Food and health care gain trust, tech in decline. |
| 17:25 | What do businesses need to do to (re)build their reputation…? |
| 18:40 | When to lift the lockdown? "People want governments to prioritize health and safety…" |
| 19:45 | Action points for business leaders. |
| 20:50 | Brands and systemic racism. |
| 22:10 | "This is more than a moment in time. This is a turning point." |
| 25:00 | Why brands must take a stand. |
| 26:30 | Advice from Richard Edelman: "Make sure your own house is in order… Educate, advocate and inspire… Get involved in the hard work of fixing things." |
| 31:20 | Stakeholder capitalism as a force for good. |
| 34:50 | Why CEOs have "a big new job: truth teller, fact finder." |
| 36:30 | Which brands are setting a positive example? |
| 40:00 | A return to the office – how and when? |
| 42:15 | Contact tracing, privacy and how technology can help fight the pandemic. |
| 45:30 | Diversity and technology companies. |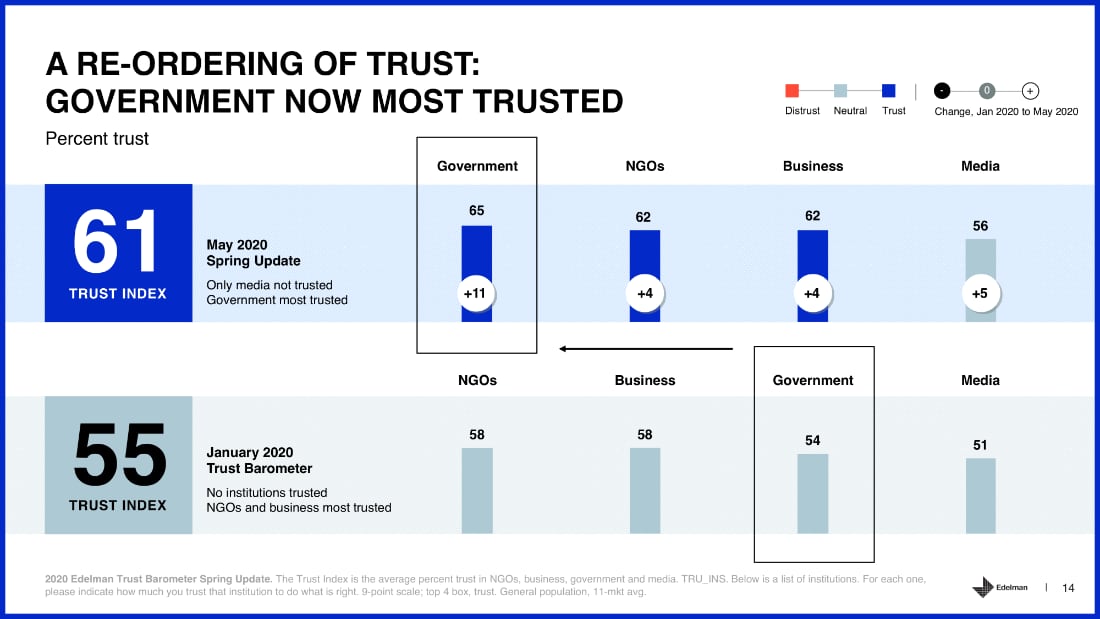 2020 Edelman Trust Barometer Spring Update-1
2020 Edelman Trust Barometer Spring Update-2
2020 Edelman Trust Barometer Spring Update-3
2020 Edelman Trust Barometer Spring Update-4
2020 Edelman Trust Barometer Spring Update-5
2020 Edelman Trust Barometer Spring Update-6
Brand Trust in 2020 Edelman Special Report-1
Brand Trust in 2020 Edelman Special Report-2
Brand Trust in 2020 Edelman Special Report-3
Brand Trust in 2020 Edelman Special Report-4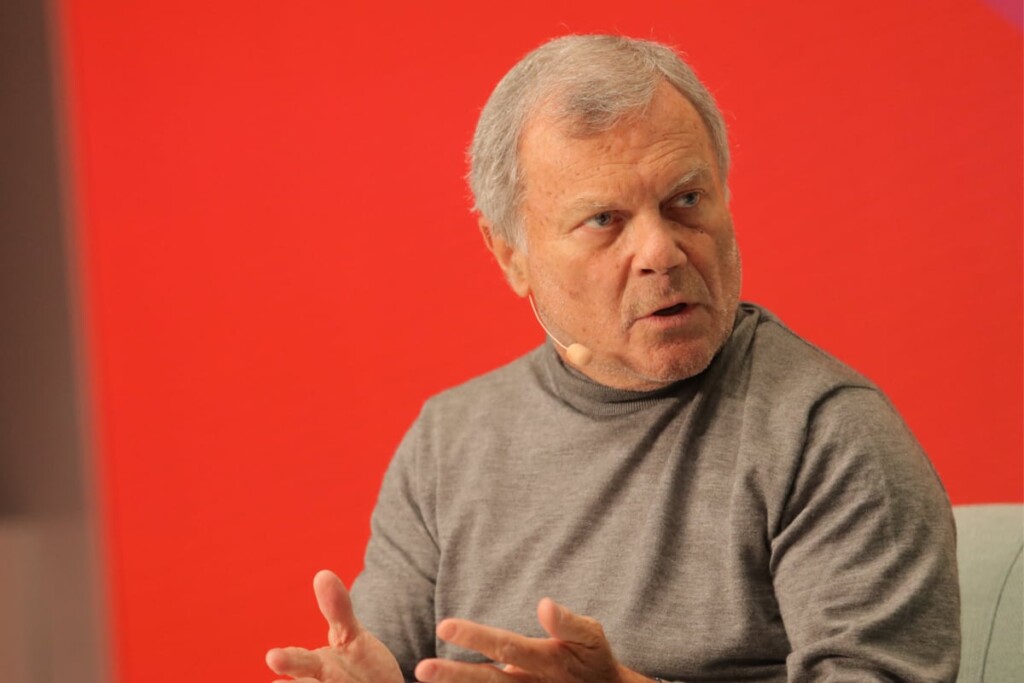 Sir Martin Sorrell predicts the coronavirus crisis will speed up digital transition and lead to higher taxes as governments try to pay for stimulus packages.
Read More »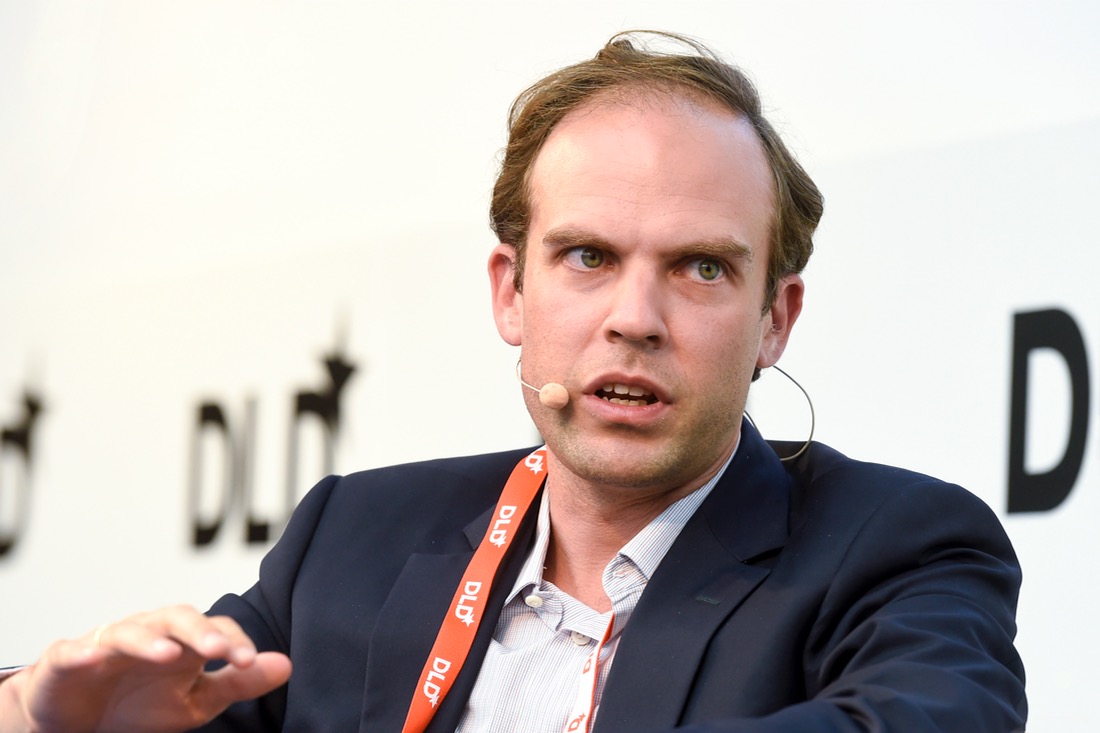 In the first DLD Sync session, Oxford economist Carl Benedikt Frey shares his insights on the future of work, automation and the economy after Covid-19.
Read More »