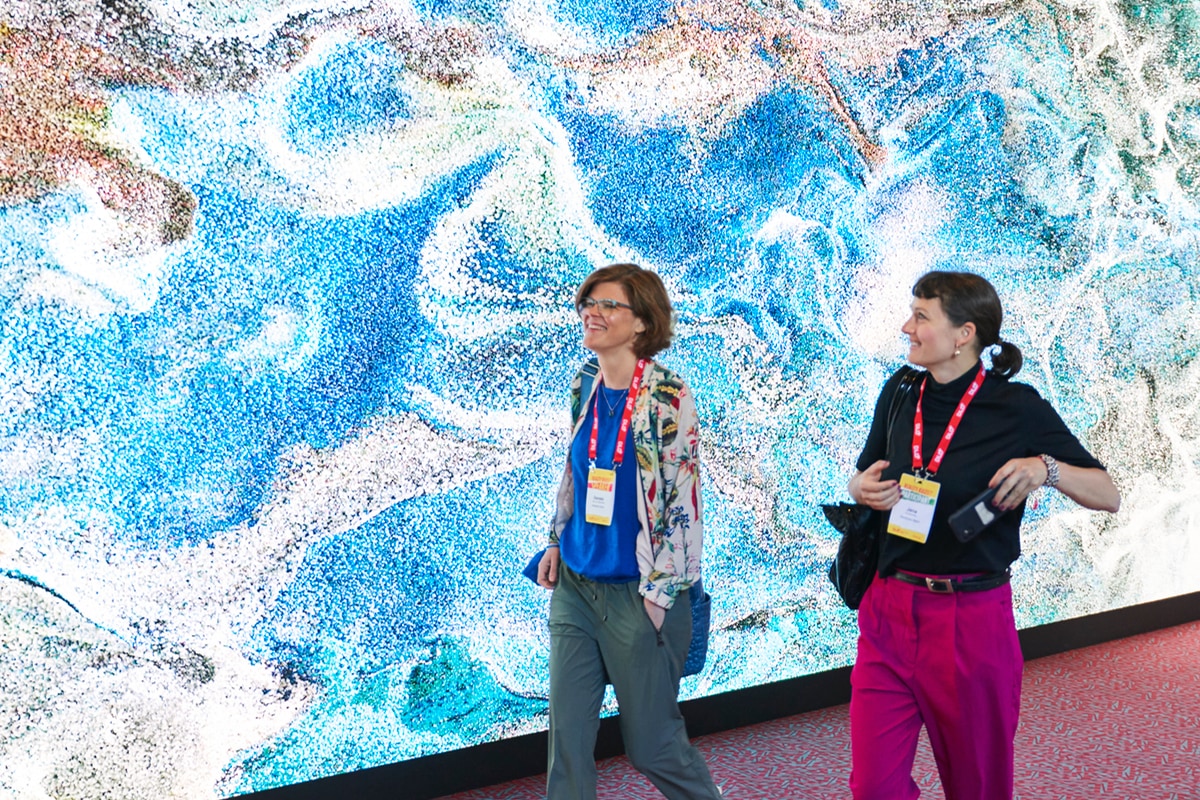 Vibes of Tomorrow: Art & Culture at DLD22
What's the sound of climate change, the shape of data and the real value of NFTs? Discover highlights of the culture and art sessions at DLD Munich.
Technology inspires art, and art takes technology to the next level. A variety of Munich sessions illustrated the creative interplay between cultural pioneers and the newest trends in digital – whether it's about giving shape to otherwise nondescript numbers or employing NFTs and cryptocurrencies to reward artists with a fair return of their work.
As a special treat, two outstanding musicians, singer-songwriter Vérité and Kazakh superstar Dimash Kudaibergen, gave exclusive concert performances. We can only highlight a few sessions in this brief article but you'll find all talks in our DLD22 video collection on YouTube.
Machine Hallucinations
Time lapse video by Gabor Krienke for DLD
Refik Anadol is the unrivaled maestro of visualizing the aesthetics of machine intelligence. At DLD 22, the media artist invited the audience to imagine alternative and dynamic realities inside and outside of architecture.
In a tour de force presentation, he shared a selection of his data sculpture projects from around the world. And he brought one example with him to the DLD community in Munich: for all three days, a gigantic video wall displayed ever-changing images of machine-generated, dynamic pigments – part of his Machine Hallucinations: Nature Dreams show at Koenig Galerie – which turned the hallway into the most popular (social media) site on location.
Video: "Machine Hallucinations" // Refik Anadol
A Seismographic Journey To NFTs
Artists Emily Segal and Rafaël Rozendaal joined Refik Anadol and Hans Ulrich Obrist on stage to talk about their experiences with Non Fungible Tokens (NFTs) – three words that have left the global art market trembling with excitement.
As digital ownership certificates, NFTs return a unique value to items that can now be infinitely copied: digital artwork, videos, music and more. The tokens are cryptographically stored on a blockchain and kept in a wallet. The market had its breakthrough in February 2021 when the GIF animation "Nyan Cat" sold for 300 ETH – the equivalent of about 483,000 euros at that time.
When her artist friends first started talking about cryptocurrencies in 2017, Segal was skeptical. "NFTs changed that, because all of a sudden art and culture were in the mix" she explains. Her publishing house Deluge books is dedicated to experimental content and innovative economies. On the crypto-backed publishing platform Mirror, she started a crowdfunding campaign for her second novel Burn Alpha – the first ever NFT novel. The token was dubbed $NOVEL and rose by 25 ETH (over $50,000) within 24 hours, thanks in part to high-profile backers like VCs Fred Wilson (Union Square Ventures) and Chris Dixon (Andreessen Horowitz).
"When blockchain started it was very user-unfriendly", Rafaël Rozendaal says. But the technology has become much more accessible and helps Rozendaal connect with his audience. The artist's generative works are based on algorithms that create variations. At the end, human buyers choose the version they like best, and the mystery of why one composition finds more fans than others fascinates Rozendaal. With the help of technology, he believes, art will become much more deeply embedded in your daily lives – to the point where it could make up part of our identities. To Rozendaal, NFTs resemble the early days of recorded music – which set music "free from the opera hall, everywhere".
Video: "Art, Markets & Disruption: A Seismographic Journey to NFTs" // Refik Anadol, Rafaël Rozendaal, Emily Segal, Hans Ulrich Obrist
Innovation In Music Publishing
Echos of a similar theme were present in the conversation between Troy Carter and musician Vérité, who discussed how technological innovation can fix the broken value chain of music in the digital age.
Currently, labels and streaming services structure the deals in a way that artists are often barely able to survive on the royalties they receive. Vérité is an exception. She owns all of her music and is eagerly experimenting with new technologies and platforms.
Video: "Innovation in Music Publishing" // Vérité, Troy Carter
Early on, music streaming and social media helped the enterprising artist build her career. But algorithmic gatekeepers intervened, making it harder and harder for new listeners to discover her songs.
The singer-songwriter responded to the challenge by immersing herself even deeper in technology. She started to experiment with cryptocurrencies, blockchain and NFTs. Such web3 solutions give artists better control of their work and increase the value, she believes. "We should treat music like fine art", Vérité says. "The blockchain allows digital scarcity."
Beautiful Numbers
"A positive talk about good news" – that's what Austrian designer Stefan Sagmeister set out to deliver when he walked on stage. The claim may have seemed audacious in face of the war in Ukraine and the traumatic experience of an ongoing pandemic. But Sagmeister gave the audience plenty of proof that there are reasons to be optimistic, despite the bleak headlines.
Sagmeister urged viewers to step back from the immediacy of the news cycle and examine the progress of humanity on a larger time scale. Indeed, he has found a lot of "Beautiful Numbers" that highlight positive trends in the trajectory of mankind and show how many facets of human life have improved over the past century. From the number of women in parliament to rising literacy levels and dropping suicide rates — the data speaks for itself and Sagmeisters' visualizations paint a hopeful picture that in the long run, all may be well.
Video: "Beautiful Numbers" // Stefan Sagmeister
The Sound of Climate Change
Shortly before DLD22, at the Art Biennale in Venice, Brazilian interdisciplinary artist Jota Mombaça presented In the Tired Watering, a performance built on a series of rhythmic chants and unravelling of fabric. It was "one of the most powerful pieces I've ever seen in relation to climate change", curator Hans Ulrich Obrist marveled in his session with Mombaça.
"I wanted to express what water has to say about the planetary condition we are all facing right now", the Brazilian non-binary artist explained. "Water is coming, leave!" was both a repetitive warning in the performance and a reality on the island of San Giacomo. "The performance was also an attempt to confront the audience, and us all, with this very fact that it's happening now", Mombaça said.
Video: "In the Tired Watering" // Jota Mobaça, Hans Ulrich Obrist
No One Is An Island
The interplay between humans and machines is a key theme in the work of Random International. "Humans have archaic senses installed. That makes us very vulnerable to information overkill and digital developments", Hannes Koch says, who created the collaborative studio for experimental art with Florian Ortkrass. At DLD22, the duo spontaneously decided to build a human algorithm with the help of some forty DLD attendees who joined them in the foyer of the event venue.
Human algorithm: DLD attendees performing with Random International in the foyer of Munich's Gasteig cultural center
The participants had to follow a few simple rules – like one step per beat, observe the six people closest to them, and move into the similar direction as most of the others – and their collective movement created a flocking algorithm.
The experiment was not only a fun extension of Random International's swarm intelligence studies but also amplified the positive elements of events IRL: in real life. Especially when they bring together the virtual and the physical.
Video: "No One Is An Island" // Random International
More DLD22

With next-generation supercomputers and AI, our world is being reinvented yet again. DLD22 highlighted the most important developments.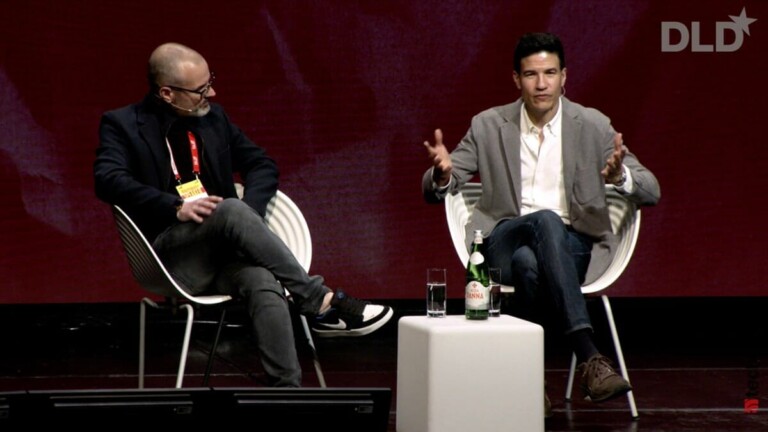 Online gaming has evolved from niche market to the fastest growing segment of the entertainment industry. In this DLD22 session, NYU professor Joost van Dreunen and Robby Yung, CEO of Animoca Brands, explore…